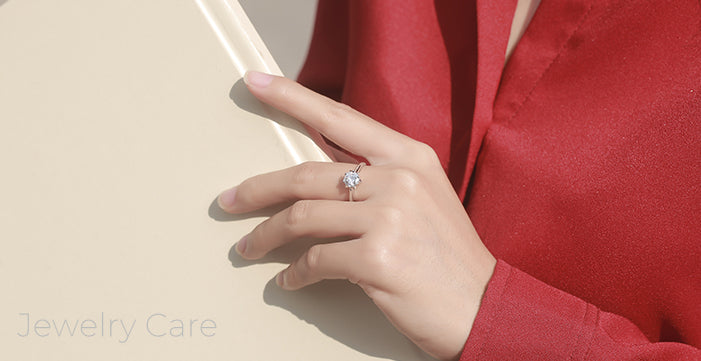 ⚠  Keep children away from your jewelry to prevent swallowing  ⚠
PREVENT OXIDATIO
- Protect the jewelry from the air (the sulfur content of which can be harmful in certain rooms) but also from contact with your other jewelry (especially if they are of a different metal).
- Wrapping them in a soft cloth when you're not wearing them.
- Avoid wearing rings or bracelets for too long in hot weather, if you sweat. (Sweating by its lactic acid salts is very oxidizing)
- Do not spray perfume on your jewelry, and generally avoid cosmetics, abrasives and detergents.
- Avoid seawater. And for freshwater, remember to quickly wipe off jewelry that has soaked in water.

In summary, it is strongly recommended to remove your jewelry before coming into contact with professional chemicals but also household cleaning products, swimming pool, seawater.
TREAT OXIDATION OF SILVER
A clean cloth may suffice. Use the silver polishing cloth to clean, it can instantly restore the silver jewelry, but the polishing cloth cannot remove the scratches. It is also possible to clean the jewel with toothpaste. You can also immerse it for a few minutes in water with baking soda before drying it. If stains remain, you can still immerse the recalcitrant jewel in a glass of hot vinegar added with salt, this should restore its radiance. 

 
TREAT OXIDATION OF K-GOLD
The surface of K-gold will be filled with small wear marks due to long-term friction and reduce brightness. You can wipe the surface with K-gold cloth. Every 2-3 years of polishing treatment, jewelry can return to a new state. K-gold does not turn black, but because it contains gold, the bottom of the ring will yellow after wearing for a long time, which is normal. Please soaked regularly with diluted detergent and brushed with a soft toothbrush.
STORE JEWELRY
If you have a certain number of more or less precious jewels, it quickly becomes judicious to find a method of arrangement to avoid damaging them, to tangle them and to be able easily to dispose of. This also helps protect metal jewelry from the oxidation of humidor sulfur air.

The jewelry box (or better yet, the box) is the most classic storage. The ideal is that it is of a size proportioned to the number of your jewels and especially that it is partitioned, compartmentalized with cases, to best protect your treasures.

At the same time, it is possible to use pockets, purses or individual cases (organza, velvet, satin, jute, etc.).
If you have any confuse about jewelry care, please contact us at jewelry@elldue.com