1.00 carat classic round cut Solitaire four-pronged moissanite engagement ring
LOOKS THE SAME AS DIAMOND (WITH NAKED EYES)
While diamonds are graded on the 4 C's scale (Cut, Clarity, Color, Carat), ELLDUE Moissanite® are not diamond, and are graded solely on color.


The cut and clarity are similar across different qualities.Moissanite have higher dispersion and refractive index, and the result is that the fire color is better than diamonds.

ELLDUE Moissanite® will bring you the best experience. Every ELLDUE Moissanite® can pass the diamond selector with "beep" sound indicator.

How To Measure Your Ring Size?                             

To measure the ring size using a ring that fits, you need measure the internal diameter of the ring. Write down this measurement in millimeters, and use the conversion chart below to find your ring size. If you don't have a ring to use, follow these easy steps: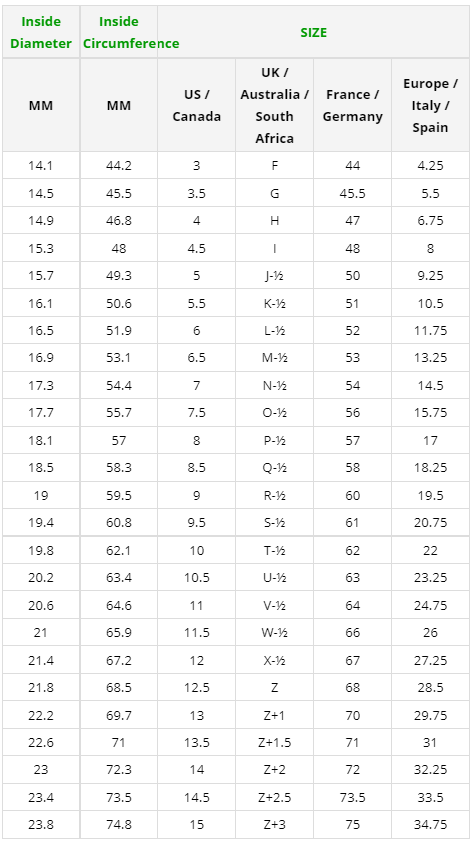 Finding Your
Ring Size FAQ
How do I know my ring fits?
A ring that fits properly should slide comfortably over your knuckle and feel snug enough to stay in place as your hand moves.
In some rings I take a smaller than my wedding band. Why?
The width of the band is an important factor to consider when measuring for a ring. Generally, a tapered ring (i.e. a ring with a small band around the finger or a small wedding band) will fit your normal ring size while a ring with a wider band (i.e. 1/4" or wider) may requires a half-size larger to fit comfortably.
How can I measure for my ring size?
Our downloadable Ring Size Guide makes it easy! You can find your ring size in two easy ways.

1. You can place a ring that fits you well on our guide to find out what size it is. (Keep in mind the answer above. The design of your ring could make a difference when it comes to finding your ring size.
2. You can also wrap some string (make sure it doesn't stretch too much) around your finger and use it to determine your ring size.
What's a good ring size for a baby ring?
Sizes 1 and 1.5 tend to be best for traditional baby rings.
What's an average ring size for a woman?
Most women find rings sized between 5 and 7 to be a good fit on their ring finger. It's tough to guess a woman's ring size without her knowing, so if you want the ring to be a surprise gift ask a woman close to her (mother, sister or best friend). They may know her ring size or be able to help you estimate.
What's an average ring size for a man?
Most men find rings sized between 8 and 10 to be a good fit on their ring finger. Many men only own one or two rings in their whole lifetimes, so they may not even know their ring size. The best way to find a good and comfortable fit is to use the string test on our ring sizer or to bring him in and let our Associates help him find a great fit.
Are rings sizes the same in Europe as in the USA?
As with clothing and shoes, ring size systems vary by location. The best way to determine your true ring size is to try the ring on.
All Orders HAND MADE and CUSTOMIZED to be Delivered in 5-8 business days
ellduejewellry.com understands how important it is for you to have your order with you fast. That is why, we are committed to handmake, finish, ship and deliver your jewelry order to you within 5-8 business days. Although each order is handmade and customized to your requirement, our dedicated jewelry team fulfills and ships the order as fast as possible.
Shipping price
Free standard shipping for orders over $89, free fedex Express for orders over $300.
| | | |
| --- | --- | --- |
| Shipping Method | Cost | Delivery Time* |
| Standard Shipping | $5.99 | 7-14 Business Days (Worldwide) |
| Fedex Express | $20 | 3-5 Business Days (Worldwide) |
Satisfaction Guarantee

We at ELLDUEJEWELRY want you to be completely satisfied with your purchase. If you're not, send it back in its as-shipped condition within 30 days of receipt.For your own protection, merchandise should be returned prepaid and insured via UPS, FedEx, or U.S. mail. Please return one item only per package. Shipping charges are nonrefundable.

What is your return policy?

We at ELLDUEJEWELRY want you to be completely satisfied with your purchase. If you are not totally satisfied, just send it back in its condition "as shipped" to you within 30 days from the date of receipt for an exchange or a refund for the price of the item. Note: We follow standard CD and DVD return policies. CDs and DVDs are nonreturnable if the cellophane is opened. Jewelry that has been sized or otherwise altered cannot be returned. Shipping and handling fees are nonrefundable.